A Guide to hedgerows (Identification Chart)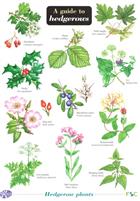 Description:
An identification guide to the plants, birds, mammals and invertebrates that live in the British hedgerow. Text on the reverse side examines the importance of hedgerows to the landscape and to plants and animals. Tips on the management of hedges for wildlife are given
Other titles from the series : FSC IDENTIFICATION CHARTS
You may also like...