A Guide to the Birds of Mexico and Northern Central America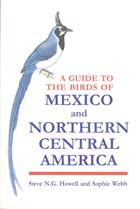 Description:
In-depth field guide to the 1070 bird species, including North American migrants, found in Mexico, Guatemala, Belize, El Salvador, Honduras, and western Nicaragua. Illustrations include 71 colour plates and 39 black-and-white drawings, based on the authors' field experience and in many cases detailing plumages never before illustrated.
Condition
Vg.
You may also like...