A Guide to the Butterflies of the Serra dos Orgaos South-eastern Brazil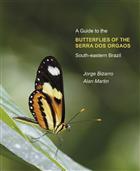 Description:
The only comprehensive guide to all the butterflies recorded in the Serra dos Orgaos of Rio de Janeiro State in south-eastern Brazil (excluding grass skippers). Over 1,300 photographs included, mostly of live butterflies taken in the field. 803 species described with comparisons to similar species, the global distributions, and notes on the ecology, behaviour and host plants.
You may also like...