A Guide to the Identification of Genera of Chironomidae Pupal Exuviae occurring in Britain and Ireland (including common genera from Northern Europe) and their use in monitoring loticand lentic fresh waters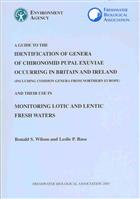 Description:
2nd edition. Illustrated keys to 145 genera and 100 selected species recorded from Britain and Ireland. Intended for use by those not familiar with the group
Other titles from the series : Freshwater Biological Association - Special Publication
Click to view all titles in this series...

Clarke, K.J.
Price £10.00

Morris, P.; Burgis, M.
Price £25.00
You may also like...