A Leechbook or Collection of Medical Recipes of the Fifteenth Century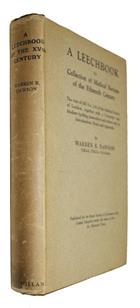 Description:
The text of MS no. 136 of the Medical Society of London, together with a transcript into modern spelling, transcribed and edited with an introduction, notes and appendix by Warren R. Dawson.
Condition
Orig. cloth. Vg in d/w (slightly darkened spine). From the library of Prof. A.J.E. Cave with an inscription to him from the author, dated April 7th 1934.
Other titles from the collection : Prof. A.J. Cave's Library
You may also like...