A Manual of Marine Zoology for the British Isles. Pts I-II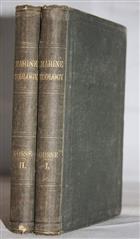 Description:
'The first attempt at a comprehensive list of the British marine fauna'.
Freeman & Wertheimer, 66, case a (*but with 16-page publisher's ads dated December 1858 to rear of both volumes).
Condition
2 vols, sm. 8vo, orig. cloth, rubbed, minor wear, small chip to foot of one spine, hinges cracked but firm. Occasional light foxing. Vg. Book plate of William Scurfield Grey to both volumes.
You may also like...