A photographic guide to Insects of the New Forest and surrounding area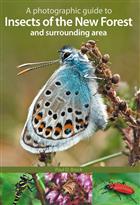 Description:
With over 1600 images, this unique photographic guide is the first book on the fascinating range of insects in the New Forest. Around 1300 species are included, with full coverage of butterflies, dragonflies and damselflies, shieldbugs, grasshoppers and related insects, amongst others. Sections on the history of entomology in the New Forest and information on different habitats are also included
You may also like...