A Practical Handbook of British Beetles. Vol. I-II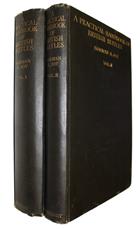 Description:
First edition. Vol. I: Text; Vol. II: Plates.
Condition
2 vols, roy. 8vo, orig. cloth, slightly rubbed to extremities, teg. Presentation book-plate - to A.R. Palmer from his 'Fellow Employees on the Staff of the Country Gentlemen's Association ... 1940' - to endpapers. Vg. Loosely inserted is a typed letter, signed by T.S Robertson, on the occurrence of Platyrhinus resinosus in Northamptonshire, together with an offprint (Proc. Trans. Br. Ent. Nat. Hist. Soc. 14, 1981) by him on a Northamptonshire locality for the Chequered Skipper Butterfly.
You may also like...