A Re-classification of the Simuliidae (Diptera) of Africa and its Islands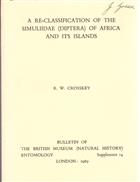 Description:
Bull. BM(NH) (Ent.) Suppl.14
Condition
Wrappers. Title inked to spine. From the library of Prof. J. Green (1928-2016) with his signature to wrapper.
Other titles from the series : Bulletin of The Natural History Museum: Entomology
Other titles from the collection : Prof Jim Green
You may also like...