A Taxonomic study of the larvae of West African Simuliidae (Diptera: Nematocera) with comments on the morphology of the larval black-fly head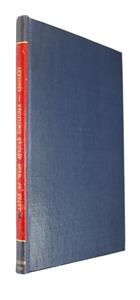 Description:
Bull. Br. Mus. Nat. Hist. (Ent.), 10(1).
Condition
Nicely bound in blue buckram, red leather title piece, gt, a bit scuffed and rubbed, orig. printed wrappers retained. Vg.
Other titles from the series : Bulletin of The Natural History Museum: Entomology
You may also like...