A World Catalogue and Bibliography of the Jewel Beetles (Coleoptera: Buprestoidea). Vol. 5: Appendices; Bibliography; Indices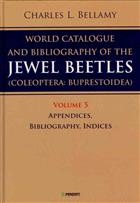 Description:
Fifth and final volume. 2 Appendices: Unknown/nomina dubia/manuscript or catalogue names without modern valid combinations; Index to respective listings of genus-group names in five past jewel beetle catalogues, checklists or monographs. 8,000+ citation bibliography. Catalogue index: family-, genus- and species-group names
Other titles from the series : Series Faunistica
You may also like...