African Spiders: An Identification Manual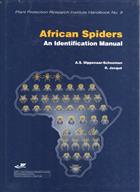 Description:
Illustrated keys for identification of all families (71) and subfamilies of African spiders, with descriptions for each family and information on natural history, phylogeny and taxonomy.
Condition
A few small bumps/nicks to edges of boards.
Other titles from the series : Plant Protection Research Institute Handbook
Click to view all titles in this series...

Millar, I.M.
Price £20.00
You may also like...