Algae of New Zealand Thermal Areas / A Taxonomic Guide to Thermally Associated Algae (Excluding Diatoms) in New Zealand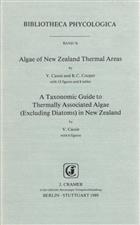 Description:
Bibliotheca Phycologica 78.
Condition
Wrappers. Vg. From the library of Prof. J. Green (1928-2016) with his name to half-title.
Other titles from the series : Bibliotheca Phycologica
Other titles from the collection : Prof Jim Green
You may also like...