Amphibians and Reptiles of Madagascar, the Mascarene, the Seychelles, and the Comoro Islands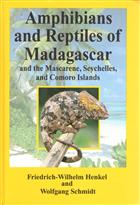 Description:
Descriptions of 240 species of frogs, turtles and tortoises, chameleons, geckos, iguanas and agamas, skinks, and snakes are provided. For each species, the description includes information on distribution, habitat, characteristic features, as well as some general comments on natural history.
Condition
Vg.
You may also like...