An Annotated and Illustrated Checklist of the Butterflies (Papilionoidea) of Wetar Island, Maluku, Indonesia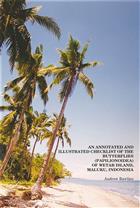 Description:
The main section of the book covers and illustrates life-size (upperside and underside and both sexes where different) all 102 known species.
The distribution of each species/subspecies is shown with particular
attention to its range in the surrounding islands of S.E Maluku.
Short sections cover species still likely to be found there as well as
unconfirmed records from the island
You may also like...