An ecogeographical study of Vicia subgenus Vicia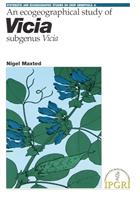 Description:
Vicia includes the cultivated vetches and their wild relatives. The subgenus contains 38 species and 36 sub-specific taxa. Ecogeographic data are recorded for each taxon throughout the range of the subgenus. Data from herbarium specimens from 18 major international herbaria are supplemented by data from field trips. Information on phytogeography, ecology and taxonomy of the subgenus Vicia, including accepted names, author(s), date of publication, where published; reference to full description and iconography; botanical illustrations; sectional descriptions; phenology; chromosome number; geographical distribution; distribution maps; ecological details, including altitud, soil and habitat preferences; interpretative notes on Vicia phytogeography, ecology and taxonomy
Condition
Vg. From the library of Prof. Chris Humphries with his signature to title-page.
Other titles from the collection : Library of Prof. Chris Humphries
You may also like...