Animal Fakes & Frauds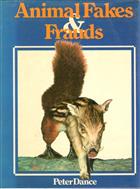 Description:
Fascinating account of ingenious hoaxes which have fooled the public and shaken some of the most respectable scientific institutions to their very foundations. Dozens of peculiar fakes are known to have been produced by unscrupulous zoologists, taxidermists or even imaginative businessmen. This is the first book to describe these man-made monsters and to give details of their creation.
Condition
Vg in d/w. From the library of Pamela Gilbert, former Entomology librarian (NHM, London) with her signature.
Other titles from the collection : Library of Pamela Gilbert
You may also like...