Annelida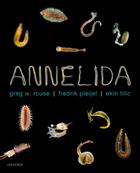 Description:
Annelids (the segmented worms) exist in a remarkably diverse range of mostly marine but also freshwater and terrestrial habitats, varying greatly in size and form. Annelida provides a fully updated and expanded taxonomic reference work which broadens the scope of the classic Polychaetes (OUP, 2001) to encompass wider groups including Clitellata (comprising more than a third of total annelid diversity), Sipuncula, and Thalassematidae (formerly Echiura). It reflects the enormous amount of research on these organisms that has burgeoned since the millennium, principally due to their use as model organisms to address wider and more general evolutionary and ecological questions.
Beginning with a clear introduction to the phylum and an outline of annelid taxonomy, this authoritative text describes their collection, the methods to ensure their optimal preservation, and an overview of anatomy with its relevant terminology. The core of the work comprises 77 fully up-to-date taxonomic chapters, informed by anatomy and the latest molecular phylogenomic evidence and carefully organised based on a new, robust phylogenetic hypothesis. Lavishly illustrated throughout with hundreds of previously unpublished high-resolution colour images and SEM micrographs, the sheer beauty and diversity of the annelids is nowhere better presented.
Annelida is the definitive reference work for annelid biologists, whilst being of interest to a broader audience of invertebrate zoologists, systematists, and organismal biologists.
You may also like...