Annotated Catalogue of the Ampulicidae, Sphecidae, and Crabronidae (Insecta: Hymenoptera) of Turkey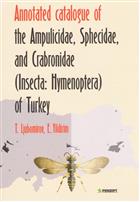 Description:
Text English. First complete catalogue of the digger wasps (Ampulicidae, Crabronidae, and Sphecidae) of Turkey. During 162 years of exploration, 715 nominal names have been proposed for the 530 species and 19 subspecies in 78 genera currently recognized for the Turkish fauna. Catalogued genera are arranged within the three families based on the latest concepts regarding the phylogenetic relationships. Citations to the original description are given for each valid species, followed by a summary of previous provincial records in Turkey. Maps illustrating provincial distributions are provided for each species. Eight species names are corrected for nomenclatural reasons, one species is synonymized, and lectotypes are designated for four species group taxa
Other titles from the series : Series Faunistica
You may also like...