Antarctic Destinies: Scott, Shackleton and the Changing Face of Heroism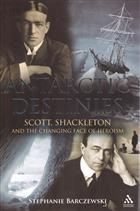 Description:
This book covers the two most famous expeditions of the Heroic Age of Antarctic exploration: Robert Falcon Scott's Terra Nova expedition of 1910-12 and Ernest Shackleton's Endurance expedition of 1914-16. It focuses not only on the two expeditions, but also on the ways in which the reputations of the men who led them have evolved over the course of the last century. For decades after Scott's tragic death on the return journey from the South Pole - to which he had been beaten by only five weeks - he was regarded as a saint-like figure with an unassailable reputation born from his heroic martyrdom in the frozen wastes of the Antarctic.In recent years, however, Scott has attracted some of the most intense criticism any explorer has ever received. Shackleton's reputation, meanwhile, has followed a reverse trajectory. Although his achievements were always appreciated, they were never celebrated with nearly the same degree of adulation that traditionally surrounded Scott. But in the final decades of the twentieth century Shackleton has come to be regarded as the beau ideal of the heroic explorer, a man capable of providing leadership lessons not only for other explorers but also for corporate executives and politicians.Today, Scott and Shackleton therefore occupy very different places in the polar pantheon than they once did. This change has come about with little new information about either man or the expeditions they led coming to light. Their actions and personalities, their virtues and flaws, have not changed. How, when and why attitudes towards Scott and Shackleton have altered over the course of the twentieth century forms the subject of this book. It explores how the evolution of their reputations has far more to do with broader cultural changes in Britain and the United States.
Condition
As new in d/w.
Other titles from the collection : Library of Pamela Gilbert
You may also like...