Aphids as Crop Pests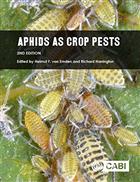 Description:
2nd revised and updated edition. This new edition reflects the expansion of research in genomics, endosymbionts and semiochemicals, as well as the shift from control of aphids with insecticides to a more integrated approach imposed by increasing resistance in the aphids and government restrictions on pesticides. A comprehensive and up-to-date reference work on the biology of aphids, the various methods of controlling them and the progress of integrated pest management as illustrated by ten case histories.
You may also like...