Apidae 5: Ammobates, Ammobatoides, Anthophora, Biastes, Ceratina, Dasypoda, Epeoloides, Epeolus, Eucera, Macropis, Melecta, Melitta, Nomada, Pasites, Tetralonia, Thyreus, Xylocopa Fauna Helvetica 20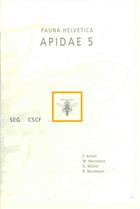 Description:
Text German + French. 5th part on the bees of Switzerland. Illustrated identification key. Species accounts
Other titles from the series : Fauna Helvetica
You may also like...