Arable Bryophytes: A Field Guide to the mosses, liverworts and hornworts of cultivated land in Britain and Ireland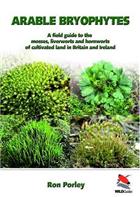 Series : WildGuides
Publisher : WildGuides
Illustrations : 166 photos and photomicrographs,

38 figs, 62 maps
Description:
Information on the 86 bryophytes found in arable fields. Illustrated profiles of the 47 bryophytes most closely associated with arable farming, highlighting those included in the UK Biodiversity Action Plan. Superb close-up photographs and illustrations showing the key features
Other titles from the series : WildGuides
You may also like...