Guide to mosses and liverworts of towns and gardens (Identification Chart)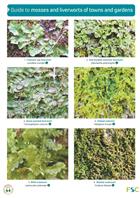 Description:
Although small, mosses and liverworts can be found nearly everywhere. Towns and gardens are a good place to start looking as they grow on damp bricks and tarmac as well as on lawns and plant pots. This guide covers 6 liverworts and 18 mosses found in towns and gardens. Photographs of plants in the wild and brief identification notes are provided to help identification.
Other titles from the series : FSC IDENTIFICATION CHARTS
You may also like...