Archaeologia or Miscellaneous Tracts Relating to Antiquity. Vol C 105 (Second Series, Vol LV)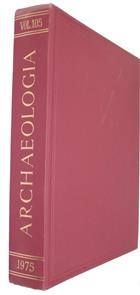 Description:
Includes 7 tracts: R. Bradley, 'Maumbury Rings, Dorchester: The Excavations of 1908-1913'; P.R. Lowery, 'A Technical Study of the Designs on the British Mirror Series'; F.H. Thompson, 'The Excavation of the Roman Amphitheatre at Chester'; A.J. Lawsom, 'Shale and Jet Objects from Silchester'; S.S. Frere, 'The Silchester Church: The Excavation by Sir Ian Richmond in 1961'; V.I. Evison, 'Sword Rings and Beads'; A. Borg, 'Two Studies in the History of the Tower Armouries'.
Condition
8vo, cloth. Vg.
You may also like...