Assessing the Conservation Value of Freshwaters: An International Perspective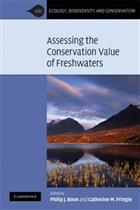 Description:
Compares methods used for evaluating rivers and lakes for conservation, primarily in the UK and US, but also in countries such as Sweden, Australia and South Africa. Includes a chapter on developing countries, to examine the role of social and economic conditions in conservation ethics.
Condition
As new.
Other titles from the series : Ecology, Biodiversity and Conservation
You may also like...