Invertebrate Conservation and Agricultural Ecosystems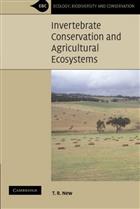 Description:
Explores the diverse interests of invertebrate conservation and agricultural production. Discusses how invertebrate conservation in highly altered landscapes may be promoted and enhanced. Draws attention to the importance of invertebrates in agricultural systems and their role in ecosystem functions
Other titles from the series : Ecology, Biodiversity and Conservation
You may also like...