Atlas de distribution des Ephemeres de Suisse (Ephemeroptera) (Fauna Helvetica 3)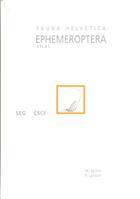 Description:
Distribution and ecology of all mayfly species recorded in Switzerland. Introductory chapters on certain aspects of the biology of mayflies (in French + German); species accounts in French.
Other titles from the series : Fauna Helvetica
You may also like...