Atlas des amphibiens et reptiles terrestres de l'archipel des Comores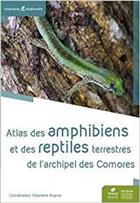 Publisher : Biotope
Illustrations : col photos
Description:
Text French. Located between Madagascar and the coast of East Africa, the Comoros archipelago is one of the world's biodiversity hotspots. This territory is subject to a strong demographic pressure, which is accompanied by a demand for agricultural land, to the detriment of natural environments. This book provides a comprehensive inventory of amphibians and reptiles in the Comoros Archipelago and is an essential tool for the conservation of island biodiversity. For each of the 2 species of amphibians and 31 species of terrestrial reptiles: description, biology, ecology and distribution.
Each species account includes colour photographs enabling identification of the speices. The atlas is based on data from field work conducted in 2018 and 2019 on the four islands of the archipelago.
You may also like...