Atlas of Neotropical Lepidoptera 5A. Checklist: Part 4A. Hesperoidea - Papilionoidea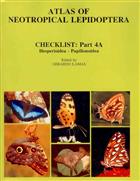 Description:
First comprehensive catalogue to all butterfly species of the Neotropical Region, Mexico to Patagonia. 7,784 valid species, 24,000 names including all subspecies, forms, varieties and major misspellings. For each name author, date and original genus and type-locality are noted
Other titles from the series : Atlas of Neotropical Lepidoptera
You may also like...