Atlas of Selected Land Vertebrates of Madagascar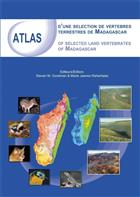 Description:
Text French and English. One of the largest islands in the world, Madagascar is home to an astonishing array of endemic vertebrate biodiversity. While recent decades have seen numerous publications on the subject-ranging from technical papers to species descriptions and field guides – no detailed atlas exists. This bilingual French-English volume, Atlas of Selected Land Vertebrates of Madagascar, fills that niche.
With more than four hundred color illustrations and maps, the Atlas brings together information from numerous sources – including data gathered during extensive biological inventories in some of the most remote forests of the island, from specimens in natural history museums around the world, and from the relevant literature – to present distributional maps on a range of taxa as well as descriptive text that interprets associated patterns and, for most taxa, provides potential habitat models. Featuring reptiles from plated to iguanid lizards; birds from paradise flycatchers to serpent eagles; and mammals from flying foxes – fruit-eating bats with meter-wide wingspans – to the enigmatic tenrecs and puma-like fossa, a member of an endemic family of Carnivora; this volume represents the culmination of decades of research.
The Atlas will be an important reference for all students, researchers, naturalists, and conservationists interested in the land vertebrates of Madagascar, one of the most extraordinary and threatened biodiversity hotspots on Earth.
You may also like...