Biological Control of Insect Pests: Southeast Asian Prospects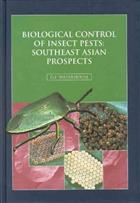 Description:
This volume is a companion to 'Biological Control of Weeds: Southeast Asian Prospects' (1994). It summarises what is known about the natural enemies (principally the parasitoids) of the major exotic insect pests and indicates prospects for their biological control.
Condition
Fine copy. Owner's name to endpaper. Author's inscription to title page.