Biologicheskaya produktivnost' severnykh ozer. 1: Ozera Krivoe i Krugloe [Biological productivity of northern lakes 1: Lakes Krivoe and Krugloe]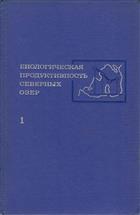 Description:
Text Russian. Akademiya Nauk CCCP, Trudy Zoologicheskogo Instituta. Tom LVI.
Condition
8vo, bound. Pages slightly browned. Vg. From the library of Prof. J. Green (1928-2016) with his name to endpaper.
Other titles from the collection : Prof Jim Green
You may also like...