La Répartition verticale du Plancton dans le Lac de Zurich de décmebre 1900 à décembre 1901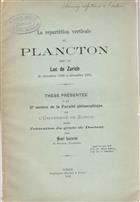 Description:
Text French. Thèse présentée à la IIème section de la Faculté philosophique de l'Université de Zurich pour l'obtention du grade de Docteur.
Condition
Institutional stamp to front wrapper. Vg.
Other titles from the collection : Prof Jim Green (1928-2016)
You may also like...