Birds of the Horn of Africa Ethiopia, Eritrea, Djibouti, Somalia & Socotra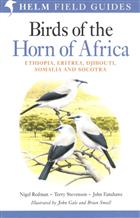 Description:
First field guide to the birds of this region, and a companion to 'Birds of East Africa' by two of the same authors. Over 200 plates by John Gale and Brian Small illustrate every species found in the five countries covered by the guide
Condition
Fine copy.
Other titles from the series : Helm Field Guides
Other titles from the collection : Prof Jim Green
You may also like...