Bombyces and Sphinges of the Alps and their larvae, pupae and cocoons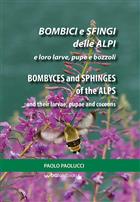 Description:
Covers 16 families of larger moths traditionally referred to as Bombyces and Sphinges. Includes around 350 species so far discovered in the Alps. For the majority of these larvae, pupae and cocoons are also shown. The book includes keys for determination of the species, together with information on distribution, habitat, phenology, host plants, etc. for each species.
Other titles from the series : WBA Handbooks
You may also like...