British Bumblebees: their descriptions, life-styles and plant hosts with particular reference to the county of Somerset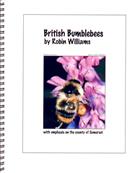 Description:
3rd edition. Introductory sections on biology and identification; detailed species accounts for True bumblebees (Bombus) and Cuckoo Bumblebees (Psithyrus) with descriptions of sexes/castes, times of occurrence, information on range, plants visited, nests and inquilines/host species; appendices include Somerset records, Flowers visited, etc.
Condition
Vg.
Other titles from the collection : Michael Archer's Library
You may also like...