Bulletin of the British Museum (Natural History) Miscellanea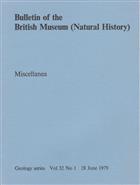 Description:
Bull. BM(NH) Geology 32(1): 1-90. Contents: C.G. Adams & P. Frame, Observations on Cycloclypeus (Cycloclypeus) Capenter and Cycloclypeus (Katacycloclypeus) Tan (Foraminiferida); P.J. Andrews & T.I. Molleson, The provenance of Sivapithecus africanus; L.R.M. Cocks, A silicified brachiopod fauna from the Silurian of Iran; J.J. Hooker, Two new condylarths (Mammalia) from the early Eocene of southern England; A.E. Longbottom, Miocene sharks' teeth from Ecuador; S.F. Morris, A new fossil terrestrial isopod with implications for the East African Miocene land form; C.B. Stringer, A re-evaluation of the fossil human calvaria from Singa, Sudan; P.E.S. Whalley, New species of Protorthoptera and Protodonata (Insecta) from the Upper Carboniferous of Britain, with a comment on the origin of wings.
Condition
Vg
Other titles from the series : Bulletin of The Natural History Museum: Geology
You may also like...