Butterflies of Britain and Europe: A Photographic Guide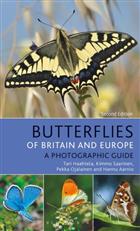 Description:
2nd edition. An authoritative photographic guide to the butterflies of Europe. Detailed coverage of the 482 species of European butterflies (42 more species compared to the first edition). Also with additional information on over 60 species found in the far east of Europe, as far as the Urals and Caucasus. Detailed text and stunning macro photography, showing both upper and underwing where possible allow identification in the field. Detailed information on identification, similar species, habitat, lifestyle and larval host plant.
You may also like...