Butterflies of the Afrotropical Region. Part 2: Nymphalidae, Libytheidae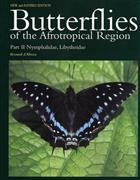 Description:
2nd revised edition.
Condition
This volume is almost out of print. From an original small run, only a few copies now remain. Due to warehousing problems in Singapore, some copies may be beginning to show some imperfections. Adhesion between pages has occurred at certain points and small amounts of ink may be left on the facing page where separated. Please note, this book is not likely to be reprinted, and consequently all remaining copies can not be replaced.
Other titles from the series : Butterflies of the World (D'Abrera)
You may also like...