Butterflies of the Holarctic Region 1: Papilionidae, Pieridae, Danaidae, Satyridae (partim)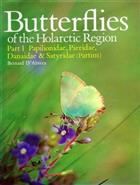 Description:
Includes genus Erebia. A large proportion of the illustrated species are from China and Central Asia.
Condition
The remaining copies have foxing to the inner face of the dust jacket, and a few spots of foxing to the endpaper.
Other titles from the series : Butterflies of the World (D'Abrera)
You may also like...