Saturniidae Mundi. Saturniid Moths of the World. Vol. 3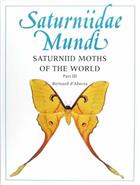 Description:
Covers mainly Asian and Australian genera (including Copaxa, Saturnia, Loepa, Graellsia, Actias, Samia, Rothschildia, Attacus, Coscinocera)
Other titles from the series : Saturniidae Mundi
Click to view all titles in this series...

d'Abrera, B.
Price £219.00

d'Abrera, B.
Price £130.00
(Save £50.00)
You may also like...