Charles Darwin: his Life told in an autobiographical Chapter, and in a selected series of his published Letters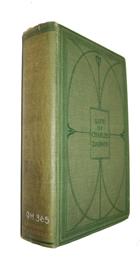 Description:
Freeman, 1477.
Condition
Orig. cloth (spine faded + lightly soiled). Good ex-lib. copy with library shelf number to spine and label to endpaper. Ownership stamp of the British botanist Prof Felix Eugen Fritsch (1879-1954) to endpaper.
You may also like...