Chinese Art and the Reeves Collection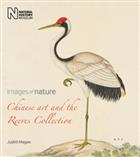 Description:
Published by the Natural History Museum, this volume presents a selection of some of the finest examples of Chinese natural history drawings from the 18th and 19th centuries commissioned and collected during the early 19th century by English naturalist John Reeves.
Other titles from the series : Images of Nature
Click to view all titles in this series...

Cooper, P.M.
Price £9.99
(Save £3.01)

Di Tommaso, L.
Price £11.99
(Save £1.00)

You may also like...
Larsen, T.B.
Price £15.00
(Save £7.00)

Salmon, M.A.; Edwards, P.J.
Price £28.00
(Save £7.00)

Larsen, T.B.; Nakamura, I.
Price £15.00