Cladistics: Perspectives on the Reconstruction of Evolutionary History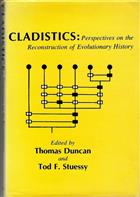 Description:
Papers presented at a workshop on the theory and application of cladistic methodology, March 22-28, 1981, University of California, Berkeley.
Condition
Vg in d/w (d/w spine faded, with some wear to head of d/w spine). From the library of Prof. Chris Humphries (systematic botanist and a leading figure in the cladistic revolution in systematics and biogeography), with his signature to endpaper
You may also like...