Coleoptera Histeridae (Insects and Arachnids of Canada 24)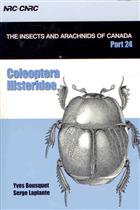 Description:
Treats 135 species recorded from Canada as well as 11 that could occur in the country. Seven new species described. Keys to subfamilies, genera, and species. For each species: list of North American synonyms, a selective list of references, a diagnosis and a description, notes on the geographical distribution and data on the habitat. Distribution maps and illustrations of taxonomic characters for a number of species are included, as well as habitus drawings of representative species
Condition
Cover neatly laminated. Vg.
Other titles from the series : Insects and Arachnids of Canada
You may also like...