Écologie Acoustique des Chiroptères d'Europe: Identification des espèces, étude de leurs habitats et comportements de chasse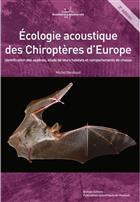 Description:
Text French. 3rd edition. Includes a DVD with sound files allowing species identification.
Asseses the knowledge obtained from ultrasonic detection of bats. Computer analysis of ultrasound now allows identification of about 80% of the ultrasonic contacts, and it is possible to conduct surveys and studies minimising disturbance of the bats. Includes treatment of 34 of the 42 species of bat found in Europe.
Other titles from the series : Collection Parthenope
You may also like...