Conservation of Caribbean Island Herpetofaunas Volume 1: Conservation Biology and the Wider Caribbean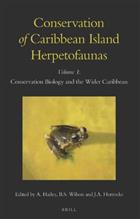 Description:
First of two volumes which document the existing status of herpetofaunas (including sea turtles) of the Caribbean, and highlight conservation needs and efforts. Previous contributions to West Indian herpetology have focused on taxonomy, ecology and evolution, particularly of lizards. This series provides a unique and timely review of the status and conservation of all groups of amphibians and reptiles in the region. This volume introduces the issues particularly affecting Caribbean herpetofaunas, and gives an overview of evolutionary and taxonomic patterns influencing their conservation. Chapters focus on groups that have been relatively neglected in the Caribbean: amphibians and snakes. A major chapter describes the problem of invasive species of amphibians and reptiles in the West Indies. Three chapters then deal with islands of the Wider Caribbean that share many of the same problems but fall outside the West Indies biogeographic region: the Atlantic islands of the Bermuda group; the Dutch continental shelf islands of Aruba, Curaçao and Bonaire, and the Neotropical islands of Trinidad and Tobago
You may also like...