Contributions à la Géologie de la Péninsule Arabique (Notes et Mémoires sur le Moyen-Orient. Tome VII:)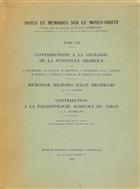 Description:
This volume also includes: 'Mémorial Richard Allan Bramkamp' by N.J. Sander (pp. 263-265, 1 pl.) and 'Contribution à la Parasitologie Agricole du Liban' by Y. Arambourg (pp. 267-279).
Condition
4to, orig. printed wrappers; pages unopened. From an institutional library with a few discreet ink stamps. Good. Also with ownership stamp of William James Kennedy (1943- ), Professor of Earth Sciences, University of Oxford.
You may also like...