Contributions to Our Knowledge of Old World Araliaceae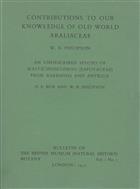 Description:
Bull BM(NH) Botany 1(1). This issue also contains the following article: An Undescribed Species of Mastichodendron (Sapotaceae) from Barbados and Antigua by H.E. Box and W.R. Philipson.
Condition
Fine.
Other titles from the series : Bulletin of The Natural History Museum: Botany
You may also like...